I wish I had read this book sooner. Years ago my mum suggested I give this classic a read but (due to the monster tbr and the inevitable distractions life can bring) it sadly fell by the wayside. Since finishing one day ago, I already want to reread it and have bought every related Alcott book on my kindle so I can find out what happens without having to wait for postage.
---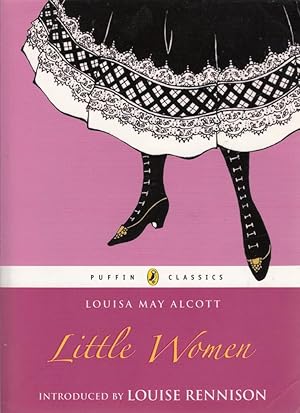 Title: Little Women                                     Author: Louisa May Alcott                         
Date published: 1868
Pages: 400
Summary: 
Meg is the eldest and on the brink of love. Then there's tomboy Jo who longs to be a writer. Sweet-natured Beth always puts others first, and finally there's Amy, the youngest and most precocious. Together they are the March sisters. Even though money is short, times are tough and their father is away at war, their infectious sense of fun sweeps everyone up in their adventures – including Laurie, the boy next door. And through sisterly squabbles, their happy times and sad ones too, the sisters discover that growing up is sometimes very hard to do.
---
I think I decided fairly early on in my first read-through that I liked the way it was written. The mid 19th Century language and style paired with its target genre (children) allowed for easy reading; eloquent but palatable.
The characters are all pretty realistic (sometimes, perhaps as a reader from a later generation, I considered them *too* proper) and it's relatively easy for me (and I'd imagine younger readers too) to find both qualities and flaws in the girls that I can relate to. Their nuances of character were no doubt integral to the book's early successes. Meg is as proper as she can be with a dusting of girlish attitudes. Jo, the second eldest, is a boyish girl with a good heart and a temper. Beth is a shy, sweet musical girl with a selfless attitude and Amy, the youngest, is a playful sprite who works hard to improve her own slights of character.
The plot ebbs and flows through the days and months of a year in the girls' life without slowing or becoming uninteresting to read. One of its most fascinating and compelling qualities is how pleasant Alcott's descriptions of relatively mundane things can be. The plot is not fast, and not particularly wild but I found myself smiling more than once at simple conversations had between mother and daughter or moments of contentment within the March family's life. It also lends itself well to female audiences as it explores ideas of women's liberation that would've been less normal to audiences in 1860s America.
The moral code the girls follow, kindly taught by their mother, is one that inspires readers to be better – at least it did for me. It reminds us the value of integrity and modesty and a menagerie of other amiable traits without seeming 'preach-y.' The book also doesn't hide the fact that life is hard, people are flawed, and bad things happen – it's honest with its readers. Whilst I would've been content with a novel that gently tells tale of an exceedingly happy and moral family who are, to most standards, faultless and scarcely ever in bad fortunes, this novel turned out to be very much more than that. There's a turning point a little way after page 200 where lots of things become uncertain and tension hangs over your head like a great shadow. The combination of practicality and emotions from the girls in this section is utterly heart-wrenching and will undoubtedly have you hooked as you cling on to the characters you aren't ready to lose. The post civil war setting adds a sobering tone in the book's more haunting passages and
All in all, I found this to be the perfect balance of lightheartedness and drama with lovely kind of 'bildungsroman-esque' tone. I think it would've done me good had I read it as a teen and would thoroughly recommend it, regardless of your age. There's something kind of timeless about their journey. It might not be for you if you love modern thrillers but it really did it for me as a simple and eloquent masterpiece.
---
---
 
4 out of 5
---
Find it on Goodreads
Buy it on Amazon.co.uk / Bookdepository
---
If you liked

 'Little Women'  try 'Peter Pan'
If you have any other suggestions or insights feel free to message me or leave them in the comments section below!
---
– Cat –