So, this little post is about Sarah J. Maas' A Court of Thorns and Roses trilogy, and more specifically the first instalment in the series. First things first, I will admit I have wanted to love this series since I first heard about it and that might have been why I didn't read it straight away. I was worried I'd be disappointed by it and whilst the book wasn't everything I had hoped it would be, I did enjoy it and the series still has a chance to sweep me off my tentative feet.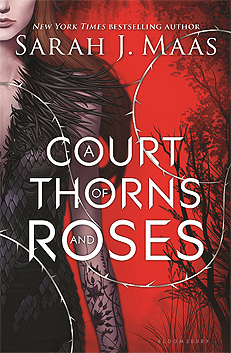 ---
Title: A Court of Thorns and Roses                  Author: Sarah J. Maas                         
Date published: May 5th 2015
Pages: 421
Summary: 
Feyre's survival rests upon her ability to hunt and kill – the forest where she lives is a cold, bleak place in the long winter months. So when she spots a deer in the forest being pursued by a wolf, she cannot resist fighting it for the flesh. But to do so, she must kill the predator and killing something so precious comes at a price …
Dragged to a magical kingdom for the murder of a faerie, Feyre discovers that her captor, his face obscured by a jewelled mask, is hiding far more than his piercing green eyes would suggest. Feyre's presence at the court is closely guarded, and as she begins to learn why, her feelings for him turn from hostility to passion and the faerie lands become an even more dangerous place. Feyre must fight to break an ancient curse, or she will lose him forever.
---
So, where do I begin?
This book has such a following its hard to really say anything that hasn't already been said but I shall do my best.
The story starts off with a 'Beauty and The Beast' vibe that mingles with a Hunger Games-y, Cinderella-esque type main character and a super mysterious plot. However, it quickly develops into much more than that as we gradually discover more and more about the Faerie world and the creatures who inhabit it.
Something I liked about the plot (and something that seems to be a trend among YA fiction at the moment – see Caraval) was the way Mass played with the idea of truth. A Court of Thorns and Roses invites the reader to question a great deal of what we read on the page, making it both more unpredictable and more magical. In terms of 'overall outcome' the plot was fairly typical  but this didn't really take away from the story. The only part I found a little disappointing was the way the key romantic relationship shifts after about half-way through. I think I've guessed events in the sequel purely because later descriptions of the couple seem to indicate that Maas is no longer invested in it – it will be interesting to see how it all plays out. (I hope it plays out in a particular way) I totally ship Rhys – I'm not even ashamed. He's so much more interesting than Tamlin.
I really enjoyed the way Maas made faeries so acutely unlike traditional 'fairy' images. The raw, animal nature of the Fae characters was fun to read and I liked the little canine and feline behavioural traits she used. Feyre's character is still kind of growing on me though – I was disappointed that she was given quite so much help by male characters in later chapters, it really took away from the gender tropes the opening chapters challenged. The weak father and strong daughter juxtaposition paired with the female Mercenary was a good opener and I'd definitely like to read more about the briefly introduced mercenary.
Nesta, I think, actually proved to be one of the most intriguing characters and I'd really like to read more about her too. Don't get me wrong, the faeries are cool and all, I just feel like her character was compelling and utterly human – and, really, there's some magic in that too. She pulls a full 360 and goes from evil step-sister to loyal protector, a character arc I just really felt was worth mentioning. She's so magically human that she defies magic, I hope Maas does something cool with her character.
"I'd never heard of a glamour not working. But Nesta's mind was so entirely her own; she had put up such strong walls—of steel and iron and ash wood—that even a High Lord's magic couldn't pierce them."
Another thing that disappointed me about this read, and perhaps the reason it doesn't quite make it to four stars, was that I felt quite disconnected from the characters I was reading about. There are real gruesome and emotional events going on in this novel but few made my heart race and I didn't cry – not even once. I'm not saying crying makes a book good but sad things did happen, it would've been a better book had I felt that in the writing. I really want to love this series and I'm hoping the second book lets me do that by just harnessing a little more emotion and tension.
In summary, this was an interesting story and kept me reading till the last page. Despite all the little niggles, I really did enjoy it and I'll definitely be picking up the sequel with high hopes.
---
 
3.5 out of 5
---
Find it on Goodreads
Buy it on Amazon.co.uk
---
If you liked

 'A Court of Thorns and Roses'  try 'Caraval'
If you have any other suggestions or insights feel free to message me or leave them in the comments section below!
---
– Cat –