It's over. I've read them all… and this (the aptly named ACO-WAR) was a fabulous conclusion full of twists, savagery and endless fae fabulous-ness. Whilst this post will be free of spoilers from this book, it may talk about the events of the first and second. I will also be releasing a second ACOTAR series discussion post so I can have a big ol' spoiler-riddled discussion about everything that happened. That post will be out Monday (and you'll be able to link to it here!)
---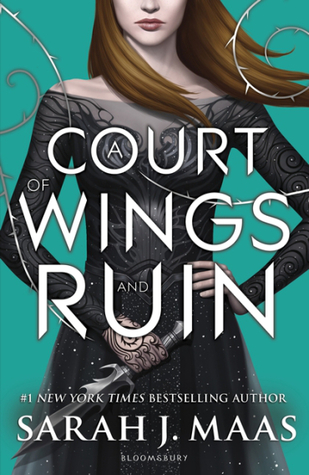 Title: A Court of Wings and Ruin                  Author: Sarah J. Maas                         
Date published: May 2nd 2017
Pages: 699
Summary: 
Feyre has returned to the Spring Court, determined to gather information on Tamlin's maneuverings and the invading king threatening to bring Prythian to its knees. But to do so she must play a deadly game of deceit—and one slip may spell doom not only for Feyre, but for her world as well. As war bears down upon them all, Feyre must decide who to trust amongst the dazzling and lethal High Lords—and hunt for allies in unexpected places
---
So, in my reviews for ACOTAR and ACOMAF I mentioned how a book should give you the feels – it should influence you emotionally if it's doing its job properly; well, this one had tears streaming down my face for the entire last 10%. There were happy tears and sad tears and the entire damn thing took over my consciousness for the 10 days or so over which I consumed it.
It's a young adult fantasy novel but unlike YA's like Fangirl I feel like, because of the more diverse subject matter, as an adult it's so easy to get immersed in the story – particularly as it takes place within a completely new world. The novel explores issues on a personal level and even goes so far as to introduce younger readers to really tactical approaches to war and conflict. Maas draws inspiration from all over, the Oroboros springing out of Egyptian mythology and other references popping up throughout (the Myrmidons from the siege of Troy, remodelling the ancient Greek 'Illyrians' and other references from the bible, Greek mythology and Russian folktale.) This weaving together of fantasy and history adds richness to the text and is part of the reason I found the second and third books so much more interesting to read. #NerdAlert – sorry, not sorry. And, actually, the way Maas wove plot elements from the first and second books into the key events of this third instalment was fabulous in itself. The plot was definitely interesting enough (and full of enough twists and turns) to keep me hooked from chapter one until the very last page.
I found myself highlighting so many passages out of sheer love of what was written (don't worry I was reading using kindle so I didn't deface any books!), I really enjoyed Maas' writing, more so than I did in the first and second books. Plot wise, ACOMAF still remains my favourite because the whole Feyre- Rhysand escapade was just perfect and I totally shipped them in book one (sorry Tamlin!) They just made so much sense and the way they respected each other and even went so far as to make each other better really stood out as a winning trait for an already likeable and bad-ass pairing.
"the male who had always presented me with a choice not as a gift, but as my own gods-given right."
I didn't find their relationship as compelling in this third book however. The whole mating thing is something I'm a bit conflicted about. I mean, on one hand it's totally sweet and it's like their souls are connected and whatever and it makes for interesting writing (where there's a mating bond but someone doesn't want to accept it) but I don't know. It kind of just belittled the idea of 'love' and really reminded me of the imprinting thing in Twilight. Feels like it's going that way too: Feyre's going to get pregnant with a crazy, super-strong, night court baby and Azriel's going to imprint *cough, sorry* have a mating bond with it or something. Whilst it'd be cute to see Rhysand all cute and protective I just don't wholly like it – the mating thing is something I can't decide if i like or not.
But that's not the only reason their relationship is less rivetting: there was no "will they, won't they" so much of their interaction was a bit dull (except that tense scene near the end – omg). The sex scenes in particular were a little unnecessary and awkward and I'm definitely glad there were less than in the second book. (They often felt a bit over-written – like, they had sex, I get it, she doesn't need to be shining like a beacon or making the mountain tremble. I mean really, *eyeroll*. But then, this book wasn't as much 'about' them – it was about saving the world which *I GUESS* is kind of important too… I still love them though. On a complete tangent I actually still like Tamlin (not for Feyre, obviously) and think he's a complex and interesting character to read about – he's flawed like anyone else but ultimately shows his true colours in this, the third book .
The third book really doesn't disappoint – whilst much of the 'action' happens in the last 10% of the book every focal character had a difficulty they were facing and their own issues to contend with along with the main plot and this made them far, far more interesting than they may otherwise have been. And Maas deals with PTSD well – she does not pretend that the hardships faced by her characters does not affect them but also reminds us that it does not make them weak – an important message. I adore every member of the night court not only for their love of one-another but for the sheer selflessness they all exude. It promotes such a healthy message (though I wont deny a little selfishness from someone might've made the characters a bit more diverse and believable.) Actually, there were mistakes made by night court members but it was mostly just Feyre who made mistakes and had regrets. A lot of her choices in the first 10% of the novel were definitely up for contention but I think ultimately, they reflect (and are a result of) her suffering in the previous two books and the plot simply builds her character and extends those emotions beyond just telling us how she feels. But, that's the night court for you – secret guardians of peace in Prythian (with a handful of misbehaviour and more than a sprinkle of sass).
They weren't the only court I liked though! Learning about the other courts was great fun and made me just want to get out the pencils and paints and try my hand at some fan art. The series does really have a great way of inviting fandom (as well as both bad and good discussion) – it's a series readers want to talk about with other people, to write fanfiction on and to continue experiencing in every way possible – and that really is a testament to Maas' ability to generate characters we care about. Even characters who were ugly, mythical and somewhat disturbing became lovable in this novel. I cared about the Suriel, learned to understand The Bone Carver and became attached to a creature so terrifying and gruesome it even sent Cassian screaming in fear. Maas frequently takes our expectations of characters and flips them on their heads and it's really well done throughout the ACOWAR.
A lot of readers don't like the series, or Maas' writing and I definitely understand that – I definitely could have swung that way after reading the first book. There are definitely a few things that annoy me about her writing and the way she does things – I haven't read the Throne of Glass series because I haven't managed to get through the first book yet. Maas, like most writers, has flaws but For me, this was a good story and I really connected with the characters – it let me forget the things I didn't like so much. But if you experienced the series differently and hated it I want to hear about it too. This book is such a topic of discussion for many readers and it's good to talk about the different issues it deals with. I really did not like Everything, Everything by Nicola Yoon but lots of people loved it so I definitely know what it's like the be on the opposing side of a fandom – reading is such an individual experience, it's important to have your own response; your opinions are personal to you.
Overall, I really enjoyed this series and look forward to hearing more about the Court of Dreams characters in the future. The events at the end of this book temporarily broke me for the 20 minutes or so during which I inhaled the words! Ultimately, if you're a fan of Maas and liked the second book, I can't see why you wouldn't like this one.
---

4 out of 5
---
Find it on Goodreads
Buy it on Amazon (A Court of Thorns and Roses)
---
If you liked

 'A Court of Thorns and Roses' series  try 'Caraval'
If you have any other suggestions or insights feel free to message me or leave them in the comments section below!
---
– Cat –